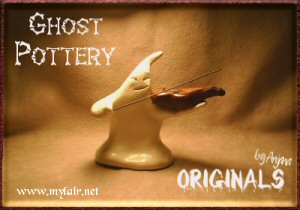 All the pottery on this page has been
handmade by me,
using my own original designs.
Each is different as I am not using
slip-cast techniques, but form only by hand.
The name 'Ghost Pottery Originals' derives from
my love for the little ghosts that I enjoy making,
but you will find much more then just ghosts
on this page *smiles*
Any questions, please do not hesitate
to contact me, and I will be glad to answer.
To order an item you have to send me
an email including the little code number
which can be found under each picture
(or the name of the item, if you prefer)
As I do not have the space available
at present to operate my kiln,
these are all the items I have left
and I am not sure when I will get a chance
to 'potter along' again.
Much has already been sold when
I went with it on craft fairs,
and what I am displaying here
is the last batch for the time being...
They make great presents too!
...My GHOSTS...
(not numbered or priced yet)
(only pictures)
And now the
'not~ghost~related'
stuff
*smiles*
# PA 1
~ Percy ~
This bright red apple has a
cute inhabitant,
and while you wouldn't be so pleased
to find one in a real apple,
this little pottery worm
will make you smile each time
you look at him.
Percy the worm is proudly
wearing a tiny farmer's hat
and comes with a big grin on his face.
I have only 3 of these apples left,
so if you would like to share
your home with Percy - better order now!
width about 2 1/2 inches, height about 3 1/4 inches
depth about 2 1/2 inches
Price £ 9.50
(please read here for P&P; costs)
~ Cat Tealight Holder ~
These are great!
Most of all if you love cats
and HAVE cats!!!
I have left these tealight holders
very heavy so that they are sturdy.
They are very unusual
and have sold immensely well
on the fairs.
These are the ones I have left,
no colour twice,
so if you have found one that takes
your fancy, you better not wait...
average size
width about 3 inches, height about 2 3/4 inches
depth about 2 3/4 inches
(sizes can vary slightly)
Price per Cat Tealight Holder
£8.70
(please read here for P&P; costs)
# PCL 1
# PCL 2
# PCL 3
# PCL 4
(this picture does not show the colour correctly)
(original much lighter - sandy/cream)
~ Cat Oilburner ~
# PCO
This is NOT a tealight holder but
a very beautiful oilburner!
When the tealight insider is lit
the eyes will glow!!!
The top can be filled with water
or incense crystals
to spread some gorgeous smell
through your home.
But caution is a must!
This oilburner gets very hot
and needs to be placed on a
heat resistant surface
(as all oilburners need to)
Additionally, if operated with water
and oil, this burner should not run dry,
as it otherwise might crack.
This is the same with all oilburners,
but I feel I have to stress this
to avoid tragedy and breakage.
Price £15
(please read here for P&P; costs)
More items/pictures to come
Site still under construction
*sorry*
But please feel free to check out
my ebay auctions as there might
be items listed that are not
displayed in this shop yet.
Just click moon_cycle and have
a peek
| | |
| --- | --- |
| | Jewellery |
| | Pottery |
| | Handbags |
| | | | | |
| --- | --- | --- | --- | --- |
| | Security | | | Comments |


email
The Fairy Shop © A. Hee 2004/05