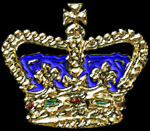 When you awake,
you find yourself outside in the gardens.
Someone caring has wrapped
a blanket around you.
You feel amazingly well and refreshed.
Then a voice starts speaking to you

CONGRATULATIONS!
You have survived
MY LAIR's
Haunted Dark Realm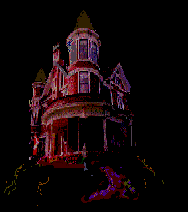 Watch all the ghosts and monsters flee,
now that their evil master has been slain!
(Listen! ~ even a nightingale has returned to the gardens..)

Wisely you chose, savior of our souls!
All the ones lost in that cursed mansion owe you their salvation.
You have shown great courage and strength!

And, of course, rewarded you shall be,
for such great courage is rare and needs a
very special award!
So drop me an email with your name
and I will personalize the below award
(unless you don't care for personalizing it)
(you can take it as it is, if you like)
There is also an opportunity
to have your name shine in my
HALL OF FAME.
Send me an email
and I will add you with the next update!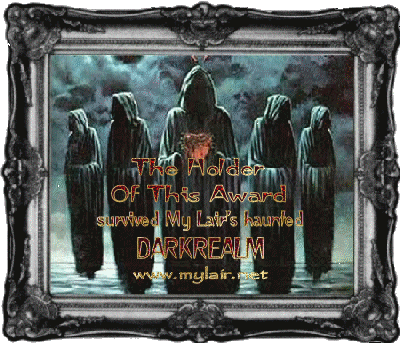 Please link back to
www.mylair.net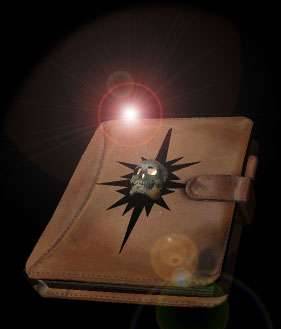 Sign the Dark Realm's very own
~ BOOK OF SOULS ~
..so that I can find you once the time has come...
*This is not My Lair's main guestbook, but reserved for the survivors of the Dark Realm*

Brave Demon Slayer
Have Made It To This Point
(how many were killed on the way we will never know..)
HALL OF FAME
Wanna tell a friend
about this site?!



Follow Her
Back To The Beginning Of The
Dark Realm...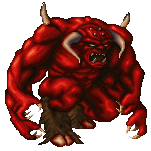 And what do you think you are
doing here, KALLUSUS?
Naughty Pet Demon!
Go back to your den ~
tea is nearly ready!!!