~ Queen 'We Will Rock You' ~
And rock you these webmistress and webmasters will
Great sites - all of them
So go and check 'em out and have
FUN!!!!!


This site is a must for every Fantasy Lover!
Lovely poetry and a webmistress I am ever so proud to call
my friend *s*

You like it a Little DiSturBed?
Then the link above is where you will really feel at home *grins*
But caution is advisable - not a site for children!!!
Even though Evilluv is really sweet...
(hehehe - she'd kill me for saying that)
(well, what are friends for but to embarrass us, right)


Mirage's wonderful world of fantasy globes
STUNNINGLY BEAUTIFUL!!!
And she is always adding *s*
(aside from the fact that she is a great friend too...)


This is where I buy my jewellery *s*
It is not a proper website at present, but an eBay store
(you know - the auction thing)
The most gorgeous necklaces and bracelets!
Well worth having a peek!!!


An enchanting site about fae,
and a simple must for every fairy lover *s*
GO ADOPT YOUR OWN DEMON!



OVER 37 DUNGEONS!
OVER 200 DESPERATE DEMONS!
THE DEMONS NEED YOU!
ACT NOW!!!


Original art and an enchanting forest walk.
are waiting for you at Dark Elf Sirus's home.
Click above and visit Tyler in his own little universe *s*
It's not a big site yet, but he loves to welcome visitors
so fire up your startship or spread your demon wings and fly over to him!

~ Lovely site, funny, curious and very personal ~
I really enjoyed my visit and hope you will too!

This is a wonderful site for anybody interested in Wicca
~ informative and very pleasing to the eye ~
A true joy to visit!!!
The Witches Coven
Great site for those interested in Witchcraft!
Two wonderful sites from the same wonderful and highly talented Lady!
Her art work is truly amazing, and I LOVE the painted mushrooms!!!
Gothic Jewellery at Gothic Style
(if you are looking for some really kewl pendants!)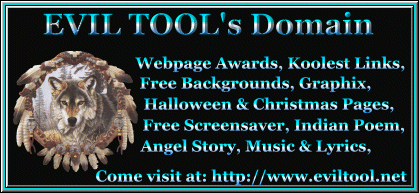 Great site with lots to do, see and download...

You could carve a
message into my guestbook

~ THE PORTAL ~