~ what ever you prefer ~
*winks*

ABOUT..
This page is dedicated to the Mystickal Realms,
and in particular to my team ~ the Spirits Of The Wind.
There are many web competitions about,
and one can get dizzy trying to choose the right one.
I was invited to the Mystickal Realms by a friend of mine
and liked the looks of this competition a lot!
The difference between Mystickal Realms and other competitions is,
that it has been especially designed for sites with a more 'spiritual' attitude.
Three different teams are in existence at the moment.
The Spirits Of The Wind
The Gothic Chamber
The Witches Circle
I have linked the graphics you will find here either to
the Mystickal Realms main page or the Spirits Of The Wind.
Once there you can have a look around and check the
different teams out
..but be prepared for..

..and loads of..
***

MY OFFICIAL
WELCOME PRESENT

PROUD MEMBER OF STAFF
The Wizard Welcomers are a great committee
And here is the award to prove it!!!

MANY BEAUTIFUL
MEMBER GRAPHICS

MAKE MANY NEW FRIENDS AT THE
MYSTICKAL REALMS!
(..these are mine..)
*s*

A present from the
~ Spirit Of The Forest ~
Our wonderful teamleader

~ MY PROUDEST TEAM MOMENT ~
To Have Won My Third
'FIGHTER OF THE WEEK'
Award!
AND GUESS WHAT?
MY SPIRIT PAGE ITSELF HAS
WON AN AWARD, TOO!
WOHOOO!!!
THANK YOU ALL SOOOOOO MUCH
FOR THIS AMAZING HONOUR!!!!!
If you like to check out what other beautiful awards
I have won at the Mystickal Realms,
then please click one of the above awards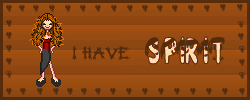 ~ WONDERFUL QUIZZES ~
Go ahead - click one and check your
'mystical' knowledge!

I Helped The Witches To Find
Their Little Dragon!


MY ADOPTIONS

This Beautiful Spirit Jewel Has Been Adopted From
The Spirits Of The Wind

Please Take My Little Genie By The Hand And Follow Her
To My Special MYSTICKAL REALMS Adoption Page


*For The Spirits Of The Wind*
(a present from GLOBETOPIA to all team members)

This graphic is a present given to everybody
who votes for a member of the Gothic Chamber team
And we all like to support each other!
..and I support..
FLIGHTS OF FANTASY!!!

Still...

Do you?
Well, I hope so!
And no better way to find out
than to join us!!!

Please vote for me..
* Monday to Friday *
It won't take long and it would mean sooo much to me!



~ LOVE AND LIGHT ~
from the
Like this cute sigatg?
Then join us and find many more sigtags and graphics!

This purple ribbon is not
related to the Mystickal Realms
nor has it anything to do with 9/11.
It is an appeal for open mindedness,
and I support deeply what it stands for,
even tough I am not a Wiccan or Pagan.
~ THE PORTAL ~
(Back To My Lair)