Where have all the fairies gone..
In a meadow lush and green
Sat a tiny fairy
On a mushroom, crying loud ~
O no, she was not merry...
Her wings were broken, all seemed lost
Her fairy end seemed near ~
When I found her in that meadow
She had barely left a tear
I picked the tiny creature
Up with my calloused hand
All worried I would crush her
Just speeding up her end
She was so weak and fragile
So feather light and frail
I hurried out the meadow
And rushed the whole home trail
The fire in my cottage
Did warm her weary bones
I made a tea and boiled some broth
And even baked some scones
When night time fell
I cracked a nut, the shell become her bed
Then I watched her drift to restful sleep
Her face still drawn and sad
I prayed that night and hoped she would
Survive till dark turned light
And kept the fire burning high
All through the chilly night
When morning rose and she awoke
I knew she would not last
But still she smiled and stroked my hand
Then told me of her past
The tree that she had lived in
Had fallen to the ground
The human voices she had heard
Had kept her scared and bound
She dared not flee
When finally the big old Oak had given
By human axes felt and cut
To the ground the tree was driven
I listened to her story
O, I did listen well
Because my axe had been there, too
When the big old Oak tree fell...
I did not dare to tell her
The truth where I had been
I cried an ocean when she died
And must live now with my sin
But how to stop the progress
We humans demand space
Where once stood big old Oak trees
We have laid a desert waste

We wonder where the fairies went
But how can they survive
In a world where only humans live
And nothing else can thrive....
A. Hee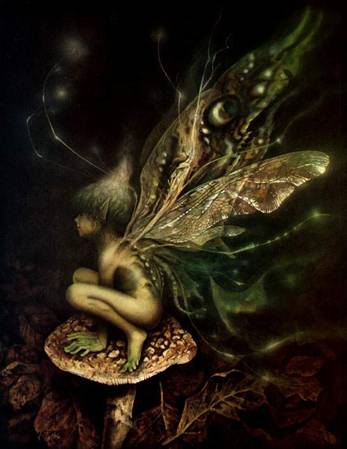 Sparkle, the little Fairy
Brian Froud