Ever longed being invited for a cup of tea
(or similar)
by a Vampire?
Well, here is your chance to visit some really
hospitable Vampires
and to take a stroll through their Internet Homes.
Stakes are obviously on the forbidden items list!!!
(no need to remind you of this, right?)
And of course My Lair does not take responsibility for
loss of blood nor bite marks...
*s*

~ Visit Alucardi and her Red Room ~
A horizontal stroll not to be missed,
but stay clear of Wilhelm
(he can be very moody)
and don't mess with Alucardi's pet!
That can have nasty consequences...
Please sign my guestbook
before you leave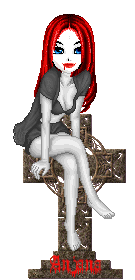 ..click my vampire sig to sign..

If you are a vampire with a website
and you would like to share a cup of tea with
the other vampires here - please email me.
Anjana